Architects in Bilbao with technical, creative and artistic profiles

Design and development
PROJECTS IN BUILDING AND PROPERTY DEVELOPMENT, MONITORING AND MANAGEMENT OF WORKS, efficiency and a commitment to avant-garde / modern and innovative EXCEPTIONAL DESIGN CONTEMPORARY ARCHITECTURE, under the principles of efficient SUSTAINABLE AND PASSIVE architecture, based on thoughtful and constant reflection.
This principle entails gradual development in the projects undertaking which avoid professional stagnation.
The continuous improvement and 3D DESIGN policy means projects development using BIM – Building Information Modelling technologies.
Sustainability and environment
Environmental impacts are considered at all stages of design and development to achieve projects that generate the MINIMUM ENVIRONMENTAL IMPACT possible throughout their entire life cycle. This enables us to opt for certification in environmental SUSTAINABILITY (BREEAM, LEED, IHOBE…) in the projects that are demanded.
Bioclimatic architecture
The CONDITIONING FACTORS of the ENVIRONMENT (climate, solar radiation and accessibility to the plot) and the BUILDING (architectural integration – aesthetic considerations, occupancy of spaces and orientation and inclination of the collectors – integration with conventional systems – compatibility with the air conditioning systems and installation efficiency.
Passive Building
In direct line with the previous policy, in view of the need to implement energy saving measures during the home use phase, a design based on PASSIVE ARCHITECTURE is oriented towards the PASSIVHAUS standard for energy efficiency in buildings and 'almost null' energy consumption, promoting the following criteria: Optimal thermal insulation, high performance exterior carpentry and glazing, absence of thermal bridges, air tightness and high efficiency active ventilation.
COMPREHENSIVE QUALITY MANAGEMENT AND ECODESIGN
Transformational leadership
By the Management of the Company and staff with responsibility in the different areas of the company, enabling us to overcome our business challenges and move towards an increasingly better future.
Customer orientation
By meeting their requirements, which are our commitments. With serious and responsible.
Management, based on data and indicators
Which enables us to perform the best monitoring of results and make the best decisions.
Orientation and commitment to our staff
So that we have qualified people, trained, aware of our business management and constant in the company.
Proper process management
Which enables us to: Comply with the current technical and legal regulations that apply to us. Be well organized for efficiency and ensure that job is done well. Promote environmental protection and pollution prevention, avoiding the transfer of environmental impacts from some certain stages of the life cycle to others, derived from the nature of our operations. To work within a Continuous Improvement approach.
All in order to achieve continuous and balanced improvements in results in the following areas: customer satisfaction, staff satisfaction, environmental impact and economic returns.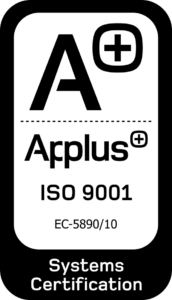 UNE-EN ISO 9001:2015
Management, design and development of building and urbanization projects.
Management and supervision of works (direction and management of implementation).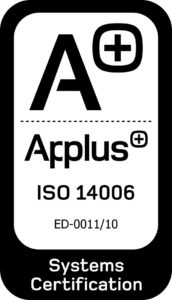 ISO 14006:2011
Management, design and development of building and urbanization projects.
No. in Register of Associative Entities Architects C.O.A.V.N .: 950440